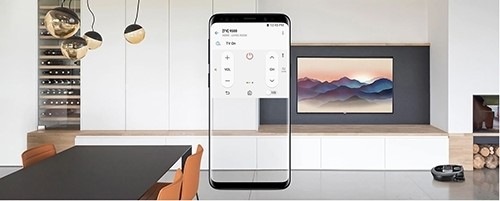 SmartThings is a Samsung application that allows you to manage your home appliances and other compatible electronic devices directly from your smartphone or tablet. You can monitor the status of connected devices when you're away from home, set automatic programmes for each room and even share control permissions with other family members. The SmartThings application is available on Android and iOS devices.
Main features of SmartThings:
Remotely control connected devices, check their status and program actions for each of them.
Create "Scenes" to group different devices and set up simultaneous actions (turn off lights and TV, etc.).
Personalise the settings of the connected devices.
Share permissions with other "Members" (up to 20 users).
Receive notifications when the status of a connected device has changed.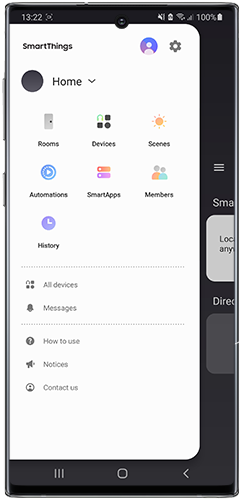 Please note: Some features may not be available in some countries and may vary depending on the model.
The SmartThings app comes pre-installed on most Galaxy devices. It is usually found in the Samsung folder on the Apps screen. If SmartThings is not installed on your smartphone, download and install it from Google Play Store, Apple Store or Galaxy Store.
Please note: We recommend that you enable the permissions that will be required for SmartThings to work properly (see section Which permissions to enable to use SmartThings).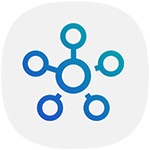 There are three ways to check if your device is compatible with SmartThings:
Launch the SmartThings app on your smartphone.
Tap the + icon.
Tap Devices.
Look for your product "By Device Type" or "By Brand".
Select the category or brand of your product, then tap "Supported devices".
You can choose whether go through the list or enter your model in the search bar.
Go to SmartThings.
Click "Supported Devices".
Enter your device's model number.
Follow the steps below to connect your device to SmartThings.
Please note: In order to connect a device to SmartThings:
The device must be connected to Wi-Fi.
You must have a Samsung account.
The devices must be compatible with SmartThings.
If the device is not automatically detected:
If SmartThings does not detect your device, return to search manually. Use the search bar, entering your device name or scan the QR code on your device.
Notifications can pop-up to allow access to your device (PIN code) or to download an add-on module. If so, accept so you can follow up with the connection and agree permissions and new module so you can use SmartThings in the best conditions.
If you don't have a Wi-Fi connection, you can connect devices via Bluetooth. Swipe down from the top of the screen to reveal the Quick panel, select "Bluetooth", then select your device. However, you will need a Wi-Fi connection to use the device you have just added to SmartThings.
To remove a device from SmartThings, select the product from the Menu or the section where it is registered, tapping on "Edit" and "Delete device", confirming when pop-up appears. Only the user identified as "Owner" can delete devices.
You can organise devices by location, by position (home, office, etc.) or by room (kitchen, living room, etc.) and set up their operation.
Danfoss Ally™​ – A smart cloud-based heating solution 
With Danfoss Ally™ you get full control of your radiator and hydronic floor heating from anywhere. Seamlessly connected with Amazon Alexa and Google Assistant.​
Danfoss Ally™ gives you all the benefits of a full-blown smart heating system – in a simple easy-to-use app.
The Danfoss Ally™ product offering includes
Danfoss Ally™ Radiator Thermostat is a connected radiator thermostat for residential use.
Danfoss Ally™ Radiator Thermostat is battery powered, compact and easy to operate with a manual handwheel and single button.
Danfoss Ally™ Radiator Thermostat is a Zigbee 3.0 certified product, compatible with Danfoss Ally Gateway™ and with third party systems using Zigbee protocol.
Danfoss Ally™ Gateway is a programmable, wireless control system that connects all Danfoss Ally™ devices to the internet and intelligently controls your heating via the Danfoss Ally™ App.
The power supply and LAN cable for internet connection are included.
Danfoss Ally™ Gateway controls the daily heating schedule for every room allowing quick and easy adjustments to be made.
The new Danfoss Ally™ Room Sensor measures the temperature and humidity in the room and makes sure each radiator delivers the exact amount of heat needed for temperature perfection.
The sensor is battery-powered with a battery lifetime of up to 5 years, and it's Zigbee 3.0 certified, compatible with third party systems using Zigbee protocol.
Size: 45mm x 18 mm.
Advanced room controls for hydronic floor heating.
When combining an Icon™ system with the Ally™ smart heating solution you obtain the Ally™ features on top. Ally™ together with Icon™ provide full Danfoss Icon™ functionality incl. app control and automatic balancing.
Adding the Expansion module to the Danfoss Icon™ system gives additional functionality and applications, e.g. demand-based supply temperature control or different floor cooling applications.
Supported for both wired and wireless thermostats.
From the Danfoss Ally™ App you can control, schedule, and monitor your home heating from anywhere and at any time. The app guides you through the quick setup and gives you the complete overview and control.
Danfoss Ally™ App is compatible with iOS and Android.
Download the app for free from Google Play or App Store.
Download from App Store
Download from Google Play
The Zigbee protocol is the standard-bearer of the open IoT.
Danfoss Ally™ is Zigbee 3.0 certified. This means that it speaks the same wireless language as tons of other smart home devices around the globe. Allowing you to connect Danfoss Ally™ to your existing smart home setup. And to make your smart home even smarter.
Zigbee creates flexibility for developers & end-users while delivering stellar interoperability. Created on IEEE's 802.15.4 using the 2.4GHz band and a self-healing true mesh network; Zigbee has many applications and is widely implemented across the globe.
An API is a programmatic interface, which is exposed by a cloud server. An API helps to collaborate with external and internal partners (including both B2B and B2C scenarios) by providing secure access to its value streams.
The Danfoss Ally™ Cloud API allows for collaboration and innovation by enabling co-opting with other service providers. The API also ensures compliance with industry level security.
By using the API, organizations and end-customers can harness rapid innovation by tapping into the Danfoss Ally™ products to build meaningful products of their own.
When I started to use SmartThings, I was a little intimidated and confused. Now after using it for almost a year, there are some things, I wished I known before getting started.
To be honest, I wasn't always the biggest fan of smart hubs. Especially, since most of my smart home devices work with a Wi-Fi connection, but that changed when I learned to many Wi-Fi devices can be a strain on your home network.
My wife, Melissa, brought me Samsung SmartThings as a Christmas gift and since then I haven't look back. In the beginning, it was a little confusing, but after some research online I was able to set up my account and get things started.
In today's post, I would like to share some of the best SmartThings tips and tricks you should know about.
Door Sensor Features
When using the multipurpose sensor make sure you put the bigger part on the door for the vibration sensor. So, if anyone knocks on the SmartThings will notify you, pretty cool!
Another thing you can do with the multipurpose sensor is if you have kids you can put it on their door and have it alert you if the door is open between curfew or bedtime hours. Now, you can know if they are sneaking in and out of their room. 😆
Here are other examples:
Mailbox door
Refrigerator door
Pool gate door
Garage door
Window Sensor Feature
You can attach the multipurpose sensor to your window which uses a magnet to detect when the sensor is detached from the other smaller part of the sensor.
When the window is open, you can be notified if it's about to rain. Now, you have time to close your windows before it starts raining.
It can also turn off your thermostat when the window is open so you are not wasting energy from your AC if the windows are opened, and when the window closes the AC will turn back on.
Motion Sensors
We use SmartThings motion sensor to turn on the lights when walking into our living room. Sometimes it can be a slight delay but it does work.
Another thing you can do is turn off the lights if it doesn't detect motion. This will also help save energy if no one is in the room.
You can also use motion sensors for a security system in any room such as your bedroom. If a motion is detected, you will get a notification if someone accesses your bedroom.
It also has a temperature sensor integrated, which will allow it to control the temperature in your home.
This will work by connecting the motion sensor to the SmartThings outlet. When the motion sensor detects motion and it's a little too hot in the room, it will trigger the SmartThings outlet to turn on the fan.
Now, you can be sitting in the living room and the fan will automatically turn on if it's too hot. You don't even have to worry about turning your fan on or off as it only works if someone is in the room. That's cool!
Smart Camara Sensors
You can use a motion sensor in your camera to trigger other devices just like any other motion sensor. If you have an Arlo indoor camera, you can have it record video while you are away from home. You can also use it as a normal motion sensor.
Arrival Sensors for a Pet
You can use SmartThings Arrival Sensors to keep track of your pets. If your dog runs away, the Arrival Sensor can alert you if the sensor is not connected to the SmartThings hub anymore. I would recommend using it on a big dog since the sensor is a little big for a small pet.
Arrival Sensors for keys
You can attach the Arrival Sensor to your keys to notify you if the car was moved. Also, you can make it beep if you lose your car keys or misplaced them.
Updating Devices
When updating a device such as the name of a LIFX light bulb in the LIFX app, it might not update to the SmartThings app. So, if you rename or update any smart device in your home make sure you also go in the SmartThings app and make the same update.
Final Note
This is just scratching the surface from the many things you can do with SmartThings. Their other devices you can use and tons of smart apps you can check out.
If there are any ideas you would like to know or add to this list please shoot me an email. Until then I hope this article gave you some great tips and tricks for your smart home.
Don't forget to check out our recommended gadgets for the best tech for your buck.
Save money on your monthly energy bills, get help around the house, and stay on top of what's going on even when you're away.
Comfort is key
Plug in from anywhere
Keep tabs on your pad
Wall-to-wall sound
The smarter way to listen
Tune in – or out – with active noise cancellation, voice and touch controls, Bluetooth connectivity, and next-level audio quality.
Light up your life
Start designing your connected home and automate your light to fit your lifestyle. Easily connect to your Wi-Fi with an app or by using your voice.
Transform your space
The mood enhancer
We call it party mode
Fine-tune your experience
Sync your smart life
Go beyond basic commands with advanced tools that keep all your smart home devices working together seamlessly.
The magic of IFTTT
Personalize and enhance how all your smart devices work together with IFTTT. It uses free, web-based chains called Applets that automatically trigger an action in devices or services to make them work together.
One device to rule them all
Easily control and monitor the smart devices in your home, even when you're away—from smart locks, outlets, thermostats, and speakers. It works across a wide range of popular connected devices, apps, and more.
Let's connect
Keep an eye on what your pets are up to with the latest indoor security cameras. Drop in to your nearest Microsoft Store to browse products in person, ask questions to real live humans, and check out our full animated tour.
Light up the room, wherever your are, with the latest smart bulbs. Drop in to your nearest Microsoft Store to browse products in person, ask questions to real live humans, and check out our full animated tour.
Start your day in one fell swoop with automated smart devices. Drop in to your nearest Microsoft Store to browse products in person, ask questions to real live humans, and check out our full animated tour.
Stay on guard rain or shine with the latest outdoor security cameras. Drop in to your nearest Microsoft Store to browse products in person, ask questions to real live humans, and check out our full animated tour.
Save time and energy and take control of your lights, alarm systems, security cameras, and more on your Windows Phone.
First, why would you want to do the things mentioned above? The best way to answer that is to look back in time.
For example, before the invention of the TV remote control, people had to get up from their chairs or sofas, walk to their TV, turn it on, and sit back down again.
As tiresome as that task was, it was made even more so when you wanted to change the channel. Admittedly, there were fewer channels back then, but still.
It wasn't until someone invented the TV remote control that we realized how much easier it made our lives, and now we're all channel-hopping remotely.
Empowering people to do that from the comfort of their own living rooms was a wonderful moment–one that's continuing today with the "Connected Home."
Of course, to connect your Windows Phone to some of the appliances in your home, you need additional hardware and software.
All-in-one packages
INSTEON provides a variety of kits for "Starters" and "Businesses" containing everything you need to view live video, detect motion and control room temperature right from your Lumia.
Kit prices range from $199.99 to $379.99. You can further reduce the cost if you want to choose individual items.
Download this app on your Windows Phone: INSTEON for Hub to control the thermostat, view live camera feeds, detect water leaks, and turn on or off lights as well as dim them.
The INSTEON for Hub app also includes Cortana support. That means that you can give her commands such as "INSTEON, turn off the lights."
For $199.99, the SmartThings Smart Home Starter Kit includes a Hub, a motion sensor, an open/close sensor, and a presence sensor.
The Presence Sensor can be worn by a pet, a person, or even be attached to a car. So when the sensor is within range of the SmartThings Hub, you can receive updates or have other connected products perform actions such as turning on lights and locking or unlocking doors.
For additional sensors, try the SmartThings Smarter Home Starter Kit ($299.99), or purchase each item individually to create your own combination.
Download this app on your Windows Phone: SmartThings Mobile.
Receive instant updates when doors, windows, or even drawers are opened. You'll also be notified when people come and go, including the cat.
If you receive a notification that someone has opened a window or door late at night while you're out, you can trigger the lights to help ward off any unwelcome visitors.
The Oplink TripleShield Wireless Security System provides you with two IP cameras with auto-night vision, two door/windows sensors, two key fob remotes, one motion detector, one siren, and one 16GB video storage device for $299.99.
While that should be enough for most home setups, adding extra sensors is simple.
Download this app on your Windows Phone: Connected.
The sensors will keep a watchful eye on your home while you're away and alert you when there's movement when there shouldn't be. When that happens, flick to the cameras page to see what's going on.
Lighten the mood
If you're not looking for security, but just want to control your lighting, try Philips Hue – personal wireless lighting, priced at $174.99.
When the LED bulbs are plugged in and you've connected the Hue bridge to your Wi-Fi router, you can change the lighting in your home from red to blue, green, yellow, or white—or anywhere in between.
Download this app on your Windows Phone: Oni: Light Control.
By using different lighting levels and colors to create "Moods,", it's easy to adjust a room's ambience with just a tap on your Windows Phone. You can also schedule moods to come on at certain times of the day.
Do you have a connected home, or are you about to set one up? Let us know how you're doing it below.
Update 1 (01/19/2021 @ 12:13 PM ET): The latest version of the SmartThings app has added Android Auto support. Click here for more information. The article as published on January 14, 2021, is preserved below.
Samsung and Google on Thursday jointly announced that Samsung's SmartThings service will be integrated into Android Auto beginning next week. The integration will allow Android Auto users to control compatible SmartThings smart home devices right from their car's display.
The announcement follows today's major Galaxy S21 launch, which also included the Galaxy Buds Pro and Galaxy SmartTag, a Tile-like tracker that will make it easy for users to see the location of what the accessory is attached to.
During its presentation on Thursday, Samsung briefly showed off what SmartThings integration will look like in Android Auto. With the SmartThings app pulled up, users will see shortcuts to quickly control smart home devices that are connected to Samsung's platform. In one image, Samsung showed off a few routines along with access to things like a smart thermostat, robot vacuum cleaner, and smart washer.
The image also shows off a "Locations" button, but we're not entirely sure what that's in reference to. Perhaps it's for people who have multiple residences with different smart home products. It's also unclear if the new integration can be controlled via Google Assistant on Android Auto.
Samsung's SmartThings platform is essentially a brand name that encompasses hardware and software. The platform provides users with a hub where they can control a multitude of compatible smart home devices, from security cameras to lights. It's not the only hub for controlling smart home devices, but as Samsung is one of the biggest companies in the world, it's certainly one of the most widely available.
Today's news comes on the heels of an announcement from December that saw Google reveal that Nest devices will work with Samsung's platform beginning January 2021. That means if you own a Nest Hub or other Nest smart home device, you can easily control it through SmartThings right from Android Auto (or your Samsung Galaxy S21).
Google said the new integration will be available beginning next week, so you can't access the feature just yet. But we'll be sure to let you know when it's finally available.
Update: SmartThings integration with Android Auto rolls out
As promised, you can now add shortcuts to your favorite SmartThings devices in Android Auto. Android Auto support is rolling out now with version 1.7.59.23 of the SmartThings app on Android. According to users on Reddit, you can pick up to 6 different things to control from within Android Auto. If you've added Google Nest devices, then those devices can also be added, though it seems you can't interact with Nest Cams or Nest Thermostats if added this way.
If you're having trouble setting this up, simply open the SmartThings app on your phone, tap the hamburger menu icon, tap the settings button, and scroll down to "Android Auto." Once in the Android Auto menu, select up to 6 items from your home. Finally, open the app launcher in Android Auto (on your car's head unit, not on your phone) and find SmartThings.
This is a Z-Wave Device for . To run this device please connect it to your mains power supply.
Important safety information
What is Z-Wave?
Z-Wave is the international wireless protocol for communication in the Smart Home. This device is suited for use in the region mentioned in the Quickstart section.
Z-Wave ensures a reliable communication by reconfirming every message (two-way communication) and every mains powered node can act as a repeater for other nodes (meshed network) in case the receiver is not in direct wireless range of the transmitter.
This device and every other certified Z-Wave device can be used together with any other certified Z-Wave device regardless of brand and origin as long as both are suited for the same frequency range.
If a device supports secure communication it will communicate with other devices secure as long as this device provides the same or a higher level of security. Otherwise it will automatically turn into a lower level of security to maintain backward compatibility.
For more information about Z-Wave technology, devices, white papers etc. please refer to www.z-wave.info.
Product Description
Know when doors and windows are opened or closed. The Aeotec Multipurpose Sensor can be easily installed on doors and windows and monitors them by using a magnetic and acceleration sensor. With the SmartThings App you receive alerts when doors and windows are open unexpectedly. Furthermore, you can set connected lights to turn on and off as you open doors, windows and cabinets.
Vibration detection. Do not miss out on anything. The built-in gyro sensor notices even the slightest vibrations. Then you will receive notifications on your SmartThings App, if somebody knocks on the door – anytime and anywhere.
Comfortable atmosphere at your home. From now on you will always know when the temperature changes in your home. Let your smart device create a convenient indoor climate by connecting thermostats or A/C units to your SmartThings App. The smart devices will do the rest for you.
Simply smart. Exploit the full potential of the Aeotec Mutlipurpose Sensor and make it part of home automation. With the Aeotec Multipurpose Sensor you can save energy and heating costs. The sensor detects open windows and sends a signal to your smart thermostat that can automatically lock the temperature.
Note: To use all functionalities, you need an Aeotec Smart Home Hub or another Zigbee Hub.
Features:
Monitor doors with magnetic reed sensor and gyro sensor
Monitor temperature
Simple mounting with 3M adhesive tape
Aeotec Smart Home Hub or other Zigbee Hub additionally required
Power: Battery CR2450
Zigbee 3.0
Regions: EU
Certifications: Zigbee, FCC/IC/CE
Scope of delivery: Aeotec Multipurpose Sensor, manual, battery CR2450
Download high resolution images for Aeotec SmartThings products .
Prepare for Installation / Reset
Please read the user manual before installing the product.
In order to include (add) a Z-Wave device to a network it must be in factory default state. Please make sure to reset the device into factory default. You can do this by performing an Exclusion operation as described below in the manual. Every Z-Wave controller is able to perform this operation however it is recommended to use the primary controller of the previous network to make sure the very device is excluded properly from this network.
Safety Warning for Mains Powered Devices
ATTENTION: only authorized technicians under consideration of the country-specific installation guidelines/norms may do works with mains power. Prior to the assembly of the product, the voltage network has to be switched off and ensured against re-switching.
Inclusion/Exclusion
On factory default the device does not belong to any Z-Wave network. The device needs to be added to an existing wireless network to communicate with the devices of this network. This process is called Inclusion.
Devices can also be removed from a network. This process is called Exclusion. Both processes are initiated by the primary controller of the Z-Wave network. This controller is turned into exclusion respective inclusion mode. Inclusion and Exclusion is then performed doing a special manual action right on the device.
After a few days of experimentation, I finally figured out how to set up a HomeKit automation that turns off/on the AC when the windows are opened/closed. Posting this here in case it proves helpful anyone in the future. I'd also love to know whether others have a more elegant way to set up this automation.
A simple "If window sensor A is opened, then trigger Ecobee off" and "If window sensor A is closed, then trigger Ecobee on" setup wouldn't work for my home because if windows B and C remain open after a window is closed, I want the AC to remain off. I also don't want the system to turn off and then immediately back on again if someone is just opening a window for a few seconds.
A simple timed automation like "If window sensor A is opened, then wait 1 minute, and trigger Ecobee off if window sensor A is still open" also wouldn't work for my home because I needed to make sure the system would turn off if that window had been closed and another window had been opened in the meantime.
In addition, there were several app-related restrictions to overcome: the native Home app doesn't allow for rule conditions or more than one trigger per rule, the Eve app doesn't allow for the OR condition logic (i.e. if ANY window is open, rather than ALL windows), and the timer ("Undo" after X mins) function in the Home 3 app wasn't working for me. I ended up having to use all 3 apps to set this up.
Equipment: Ecobee 3, Aqara hub, Aqara window/door sensors, and Apple TV 4
Apps used: Home 3, Eve, and native Home app
Automation: Turn off AC if any window is open for more than 1 minute. Restart AC once all windows are closed.
Rule 1: Set one minute timer when any window is opened
Add rule in Home: When window sensor A is open, turn on Aqara light, and then off after 1 minute.
Edit rule in Eve: Add trigger for all the other window sensors (Eve's UI makes it much easier to do this for many sensors than Home 3's)
Note: I could have set up a timer through the Mi Home app, but I didn't want the messiness of having automations set up in multiple ecosystems.
Rule 2: Turn off AC after one minute if any window is still open
Add rule in Home: When Aqara light turns off, set Ecobee mode to off
Edit in Eve: Add condition for rule if all windows are open
Edit in Home 3: Change the logic for this condition from AND (all windows) to OR (any window)
Rule 3: Resume AC after all windows are closed
Add rule in Home: When window sensor A is closed, turn on Ecobee to cooling
Edit in Eve: Edit trigger to run if any windows are closed, add condition if all windows are closed
Potential improvement: instead of turning Ecobee to cooling, set it to run a scene to Resume Schedule
Connecting your thermostat to Samsung SmartThings can give you additional control over your HVAC system. You can control your thermostats and all other smart home devices through one command center.
Additionally, buying a SmartThings-enabled thermostat means you can get access to features such as mobile applications, centralized control, remote monitoring, energy saving and much more.
Why buy a SmartThings-compatible thermostat?
Adding your thermostat to the Samsung SmartThings ecosystem enhances the monitoring and control capabilities of your HVAC system. Via the SmartThings hub, your thermostats link with various sensors and home devices that help them integrate better with your personal needs.
For example, if you have motion sensors on your entry door, you can tweak your smart network to start the thermostat when the sensors see you entering the home.
Sensors
Furthermore, instead of using extra wiring, these smart thermostats can access outdoor information like temperature, humidity and incoming weather via the hub, and improve performance while saving up on energy.
SmartThings-compatible thermostats can also work with smart assistants such as Alexa, Siri, Hey Google, or Cortana, and provide voice control and remote access features. Moreover, depending on the product you choose, you can also enjoy features like voice commands, room temperature sensors, preference-based scheduling, etc.
Controlling the temperature of your house and monitoring its climate, even when you're away, brings a host of possibilities – with one of the most important being responsible use of energy.
Mobile App
Let's not forget the convenience that controlling your HVAC system via a mobile app offers. You'll get real-time notifications of your household temperature, be able to turn the cooling/heating on or off according to weather fluctuations, and have your home ready to receive you with the perfect climate.
In short, connecting a smart thermostat with Samsung SmartThings is awesome! Now let's see what the best devices that you can do this with are.
A contact sensor is one of the simplest ways to create a security perimeter around your home. This tiny device helps you know when a window's open or a door's ajar. Our top door and window sensor pick is the YoLink Smart Home Starter Kit, which uses a hub to connect to your internet router for mobile app controls. It comes with four long-range sensors, and it's surprisingly affordable to add more.
Like the other entries on this list, there's no professional monitoring available, but that's better left to a dedicated home security system (which also uses entry sensors). Check out our door and window sensor picks below.
Here are the best door and window sensors of 2022
Compare the best window and door sensors
*Amazon.com list price as of post date. Read full disclaimer.
Reviews: Door and window alarms
1. YoLink Smart Home Starter Kit: Best overall
Amazon.com list price as of post date. Read full disclaimer.
The YoLink Smart Home Starter Kit uses a unique long-range radio frequency for its sensors, sending a signal as far as a quarter-mile (1,320 feet). Compared to the shorter range of Wi-Fi and Bluetooth devices, this is super flexible for large properties.
While YoLink looks expensive from the outset, it's actually affordable on closer inspection. Sure, the list price is around $90, but it consistently sells for about $50–65 on Amazon. Considering you get four sensors, this often drives the per-sensor cost under $15. Add-on sensors are also very affordable, costing less than $20 each in a one-pack or a three-pack.
We're big fans of YoLink's straightforward mobile app and smart home compatibility. The smart home hub works with Amazon Alexa, Google Assistant, and IFTTT, so you can ask for the status of your sensors anytime or program smart devices like smart lights to react when a door opens. Google Assistant doesn't respond to sensors like Alexa and IFTTT, but you can still check the status using a voice command.
YoLink doesn't come with a siren, which limits how non-app users in your home learn about a potential intruder. Fortunately, you can create an Alexa routine to share notifications via a smart speaker. You can also buy an add-on siren for around $30 if you're not interested in building a smart home.
YoLink is easy to set up with the app, and you install everything with a speedy adhesive pad. The sensors that come with the kit aren't for outdoor use, so you likely won't use them at maximum range. That doesn't stop some users from placing them in mailboxes for handy notifications. Still, YoLink sells an add-on outdoor sensor for around $30 if you want something more durable.
Overall, YoLink offers a great experience for folks looking to create a security perimeter around their property. The bundle of sensors is fairly affordable, and the quarter-mile range is a huge advantage over other smart entry sensors. While some drawbacks exist, YoLink's accessories help make up the difference if you can spend some extra cash.
If a door opens and nobody's home to answer, does it make a sound? It does if your contact sensor sends mobile alerts or notifications. Some contact sensors let you set chimes and sounds that trigger when the sensor goes off. Others send push notifications to your phone when they activate. These devices aren't locks, so consider pairing them with a smart lock.
This binding integrates the Samsung Smartthings Hub into openHAB.
# Supported things
This binding supports most of the Smartthings devices that are defined in the Smartthings Capabilities list
(opens new window) . If you find a device that doesn't work follow these instructions to collect the required data so it can be added in a future release.
# Discovery
Discovery allows openHAB to examine a binding and automatically find the Things available on that binding. Discovery is supported by the Smartthings binding and is run automatically on startup.
# Smartthings Configuration
Prior to running the binding the Smartthings hub must have the required openHAB software installed. Follow these instructions
The binding will not work until this part has been completed, do not skip this part of the setup.
# openHAB Configuration
This binding is an openHAB binding and uses the Bridge / Thing design with the Smartthings Hub being the Bridge and the controlled modules being the Things. The following definitions are specified in the .things file.
# Bridge Configuration
The bridge requires the IP address and port used to connect the openHAB server to the Smartthings Hub.
smartthings:smartthings:Home identifies this is a smartthings hub named Home. The first two segments must be smartthings:smartthings. You can choose any unique name for the the last segment. The last segment is used when you identify items connected to this hubthingTypeId.
smartthingsIp is the IP address of the Smartthings Hub. Your router should be configured such that the Smartthings Hub is always assigned to this IP address.
smartthingsPort is the port the Smartthings hub listens on. 39500 is the port assigned by Smartthings so it should be used unless you have a good reason for using another port.
Warning This binding only supports one Bridge. If you try to configure a second bridge it will be ignored.
# Thing Configuration
Each attached thing must specify the type of device and it's Smartthings device name. The format of the Thing description is:
Example
# Items
These are specified in the .items file. This section describes the specifics related to this binding. Please see the Items documentation
(opens new window) for a full explanation of configuring items.
The most important thing is getting the channel specification correct. The general format is:
The parts (separated by 😃 are defined as:
smartthings to specify this is a smartthings device
thingTypeId specifies the type of the thing you are connecting to. This is the same as described in the last section.
hubName identifies the name of the hub specified above. This corresponds to the third segment in the Bridge definition.
thingName identifes the thing this is attached to and is the "name" you specified in the Thing definition.
channelId corresponds the the attribute in the Smartthings Capabilities list
Example
Special note about Valves Smarttings includes a valve which can be Open or Closed but openHAB does not include a Valve item type. Therefore, the valve is defined as a having an item type of String. And, therefore the item needs to be defined with an item type of string. It can be controlled in the sitemap by specifying the Element type of Switch and providing a mapping of: mappings=[open="Open", closed="Close"]. Such as:
RGB Bulb example Here is a sample configuration for a RGB bulb, such as a Sengled model E11-N1EA bulb. Currently this binding does not have a RGB specific bulb therefore a Thing is required for each part of the bulb.
In today's digital age, there are various methods of creating your own DIY smart home . Though building a smart home may sound daunting, by having the right products and gadgets such as your iPhone or Amazon Alexa, you can easily set up the house of your dreams.
No longer will you have to worry about going room to room adjusting the window blinds or ensuring that you've locked all your doors–you can control all of this with your smartphone or even the sound of your voice. So how do you get started? Follow along with us as we provide the ultimate guide on building your DIY home automation below.
Selecting a Hub
Virtual voice-controlled assistants make it easy to control smart devices with the sound of your voice. By connecting these devices, you can take your home to the next level by building a hybrid smart home environment. Using voice-controlled gadgets will help you effortlessly get settled at home after a long day of work.
Here are some renown gadgets that can connect with your smart home devices:
Amazon Echo – This voice assistant device from Amazon connects to Alexa who will help you control your smart home devices.
Google Home – Providing hands-free help from the Google Assistant, Google Home will provide a lending hand for your home devices and appliances.
Wink Connected Home Hub – Compatible with over 400 smart home devices, Wink allows you to connect and control your home through your phone and voice by connecting with Amazon Alexa and Google Assistant.
Samsung SmartThings – Similar to the Wink above, the Samsung SmartThings enables you to control a wide range of home devices and connect your Amazon Alexa to have full control.
4 Easy Ways to Get Started
There are many appliances and devices around your home that you can seamlessly automate with your voice or your phone. Take time to identify your smart home goals. Why do you want to add smart technology to your home? Are you looking to become more energy-efficient or do you want to automate tasks like turning on your lights or opening your blinds? What specific devices around your home are you looking to automate/have more control over?
As there are several key questions to consider, the following four automation products are some helpful ways to get started with building a DIY smart home and lifestyle for yourself and your loved ones.
Window Blinds – tilt's Blinds Automation Kit
The blinds automation kit by tilt easily transforms ordinary blinds into smart blinds. Compatible with any major brand and style of horizontal blinds, you can automate your blinds through several ways such as scheduling them to open and close at certain times during the day and connecting them with your Amazon Alexa and/or Google Assistant through the tilt bridge. You can also power these smart blinds with tilt's mobile app that lets you control your home's environment and privacy settings remotely.
Lights – Philips Hue Starter Kit
These smart home light bulbs provide you with full control of your home's lighting through your smartphone, tablet, Hue wireless dimmer switches and motion sensors, and your voice. The bulbs are connected to the Philips Hue Smart Hub (comes separately or with the starter kit) that allows you to have voice control over your lights. Whether you're looking for a dim warm light to help you read and drift off to sleep or cool light to help you wake up in the early mornings, this light starter kit lets you customize the ambience of your home.
Locks – August Smart Lock
The August Smart Lock gives you full control over locking and unlocking your door, creating unique keys for each of your guests or family members, and keeping track of who comes and goes all from your smartphone. With these locks, you won't have to fumble around your purse for your keys, and with their auto-lock/auto-unlock function, you'll have peace of mind knowing that your home is safe and secure.
Thermostat – ecobee4 WiFi Smart Thermostat
Having a smart thermostat such as the ecobee4 Smarter Wi-Fi Thermostat will help you regulate the temperature in your home to keep you comfortable and your energy usage low. ecobee customers have saved up to 23 percent on their heating and cooling costs . This smart thermostat senses if people are home and the weather outside to determine how much energy to use. This is compatible with Amazon Alexa for voice control.
Whether you choose to integrate one or all devices into your home automation DIY , building a smart home can help you and your loved ones become more energy efficient and feel more secure knowing that your home is under your control.
Learn More
With tilt's blind automation kit, you can turn ordinary blinds into automated blinds. You can seamlessly control your home's temperature and security by installing this kit. Be sure to learn more by checking out our DIY smart home product today .
As we've recently and frequently discussed, home automation and the Internet of Things is taking off at a fast pace. One of the companies that's pioneering the new technology is SmartThings, who announced today at the AllThingsD: D11 conference that they are publicly rolling out their developer and inventor toolkits.
SmartThings crowd-funded their operation in 2012 through Kickstarter, raking in over $1.2 million, well beyond their $250,000 goal. They used all that cash to bolster the number of "things" linked to the platform, allowing the SmartThings hub to connect to and control door locks, thermostats, humidity sensors, IR remotes, power outlets, light switches, presence sensors, and any number of additional functions provided by the available accessories.
Out of the box, the SmartThings platform can already do things like alert you when you leave windows open and it starts to rain using a humidity sensor, or automatically adjust the thermostat, turn off the lights, and close the garage door when you leave the house.
The developer and inventor toolkits open up the platform even further to functionalities limited only by the creativity and inventiveness of its users. While transparency is always a great benefit, perhaps the best part of an open platform is the ability to leverage the collective talent and resources of a huge user base.
One of the great features of SmartThings is the open platform. That means the system isn't just compatible with first-party devices, but a plethora of officially (and unofficially) supported devices as well. One such device that works with SmartThings — though isn't yet officially supported — is the ecobee 3 smart WiFi thermostat.
If you haven't heard of it before, SmartThings is a smart home system that supports various connected devices like door sensors, smart locks, motion sensors, connected lights, and much more. Using SmartThings is one of the easiest ways to get started making your home a smart one.
Diving into this, we're assuming that you're already a SmartThings user. If not, you'll have to pick up a SmartThings hub, and you'll probably want a few connected accessories to go along with it. Keep in mind too that SmartThings is an insanely extensive platform, and we'll only be diving into a portion of what you can do with it here as it pertains to the ecobee 3.
Using the ecobee 3 with SmartThings, you have the ability to take total control over your heating and cooling beyond just what the thermostat itself can do, and also control the temperature in your home based on actions of other devices like door/window sensors, motion, switches, or even presence sensors.
The biggest thing to note here is that while the ecobee 3 works great with SmartThings (I've been using one for a few months) it's still not officially supported. (The platform does support older ecobee devices, just not the ecobee 3, yet). That means you'll need to use a custom device type and smartapp, both of which can be found here. If you don't know much about custom devices or apps — not to worry. The instructions there are very thorough, so you should have no problems getting up and running for the first time. The basis is to add the custom ecobee 3 device type, then use a smartapp on your mobile device to get it all set up. I did all these steps with no issues, and the SmartThings app found my thermostat without a hitch.
Once you have your ecobee 3 integrated into your SmartThings setup, the fun begins. There truly are a ton of ways to use your thermostat with SmartThings, but it really comes down to what other devices you have on your system, and just what exactly you want to accomplish. For me, I use my ecobee 3 temperature to talk to SmartThings via IFTTT and trigger an external switch for a window AC unit. Sounds like a lot, but it's simple, and works like magic.
The possibilities for using the ecobee 3 with your SmartThings system really just depends on your actual setup. I have various motion & door sensors, a few presence sensors, water sensors, and door locks in my house. All of these can be connected to the ecobee 3 (or any SmartThings-compatible thermostat) with ease, to perform any number of actions.
The custom ecobee 3 device type within SmartThings allows you to take total control of your thermostat. You'll have the ability to change the temperature, view alerts, and change modes all from the SmartThings app.
SmartThings allows you to go above and beyond what the ecobee 3 can do just on its own. As in my use case, you can use the ecobee 3 to talk to other switches for things like fans or heaters, branching out from just what is connected to your HVAC.
If you have one room that is cooler than others during the winter, you can use your ecobee 3 remote sensor to talk to SmartThings, and use it to turn on a space heater for a certain temperature threshold. Conversely, you can do the same to turn on a fan switch should the humidity be too high, for example.
Even though the ecobee 3 has scheduled modes built in, you can also automate them through SmartThings. Using the modes within SmartThings, you can change the temperature based on home or away (or any other mode you have setup. So when everyone leaves the house, SmartThings can set the temperature accordingly to save on heating/cooling costs. When you return, it sets the temp right where you need it without you ever touching a button.
You can also tie in your ecobee 3 and SmartThings with IFTTT — giving you even more control for custom triggers and actions. While you can use IFTTT directly with your ecobee 3, you can go even deeper by adding SmartThings into the mix as well. Doing so gives you access to all of your SmartThings-connected devices so you can do anything from flashing your Hue lights if your house gets too warm, to calling your phone if the humidity is too high.
After the initial setup, there really are dozens and dozens of ways to use the ecobee 3 with SmartThings. As I said earlier, it's really only limited by your specific setup and what devices you're using with SmartThing. Any way you look at it, the ecobee 3 and SmartThings are a killer combination.
Hit up the links below for more!
We may earn a commission for purchases using our links. Learn more.
Ford brings impressive EV routing to its Mach-E via Apple CarPlay
Ford has announced that drivers of its Mach-E Electric vehicle can make use of EV routing when using Apple CarPlay and Apple Maps.
Leaker shares purported iPhone 14 Pro design showing no notch
Reputable leaker Max Weinbach has shared schematics he says depict the design of the iPhone 14 Pro and Pro Max.
Apple has created a disturbing LinkedIn page for TV+ show 'Severance'
Apple has created a real-life LinkedIn page for Lumon Industries, the fictional corporation at the heart of TV+ thriller 'Severance'.
Get peace of mind with these great HomeKit smoke and CO detectors
So you've automated your lighting, your blinds, your thermostat, your dog's feeding schedule, etc. What's left? Well, why not add some smarts to your smoke detector with these HomeKit-enabled options?
In October 2020, Samsung got rid of its popular Smart View app for controlling Samsung TVs. Here's how to use the SmartThings app that replaced it.
On October 5, 2020, Samsung removed the Smart View app that allowed users to turn their smartphones into remotes for Samsung TVs. In place of the app's absence, Samsung didn't leave device owners without another option. Samsung's SmartThings app can do many of the same things, including acting as a remote for a TV and a master control point for an entire smart home.
The Smart View app was created as a way for users to control their Samsung TVs with their phones. They could change channels, increase and decrease the volume, as well as make other adjustments. The most useful feature of the app was the ability to stream content from a phone to a TV. The feature itself is still available, but the app that was used to complement the streaming is what's gone. It might be possible to still use Smart View if the app is already installed on someone's phone, but if users want the most up-to-date experience, they should switch to the SmartThings one.
SmartThings is a software development company owned by Samsung that works to connect all smart devices in the home. The SmartThings app, like the Smart View app, works as a controller for Samsung TVs. However, it does much more than that as it can also control other compatible devices as well. Therein is arguably the biggest difference between the two apps. While Smart View worked with TVs, SmartThings works with the whole smart home.
How The SmartThings App Works
The SmartThings app can control multiple devices, but in order to do so, users must have a SmartThings hub (or a 'brain') to wirelessly connect all their smart devices together. Users can get a smart hub, Wi-Fi router, or even a security hub to do this. Once set up, users can link their devices together through the hub or link them through the app itself. In order to add devices to the SmartThings app, open it and tap the '+' sign in the top-right corner. Users can also connect to many devices and organize them by room, and once connected, the user will be able to make many on-demand changes to the device (such as adjusting the temperature of a thermostat or turning lights on or off).
After connecting a compatible Samsung TV to the Smart Things app, using the controls are very simple. Open the app, tap the 'Menu' button, tap 'All devices,' and then select your TV from the list. This immediately shows a virtual TV remote right on your phone, with controls that should be similar to anyone who used Smart View. You can use this virtual remote to change the volume/channel, go to the TV's home screen, initiate a voice command, change inputs, and even turn the TV off.
SmartThings also makes it easy to mirror your phone's screen directly to your TV. To get started, open the SmartThings app and follow the same steps above to find your TV. Open the settings for the TV, tap 'More' (the button that looks like three dots), and tap 'Mirror screen (Smart View).' Tap 'Start now,' grant necessary permissions if the app asks for them, and that's all there is to it! The dedicated Smart View app may be gone, but all of its functionality lives on just the same in Samsung SmartThings.
Bright your day with motorized blinds. Our advanced smart motors integrate seamlessly with all major home automation systems, including Amazon Alexa, Google Home, SmartThings, IFTTT, Remote Controls, etc.
If you don't find the test equipment that fits best to the application or you are in need of more info, pls. use the form below.
All orders are generally shipped via courier in 2 to 3 working days by:
One Stop Shop for Test Equipment, Controls, Scales and Balances
PCE Instruments is a manufacturer and seller who supplies a full range of test equipment. These are mainly test meters which are developed, produced and sold under our own label "PCE Instruments ®". Customers profit from PCE´s triple competence as developer, manufacturer and sales company.
Test Equipment which is not manufactured by PCE Instruments itself is selected from other top class manufacturers. As a test equipment resource, PCE understands the importance of best fitting meters for customers' applications and offers the complete satisfaction chain: advice during the customer's selection process, information on how to use the equipment and repair and (re)-calibration services. (In case of fixed installed test equipment, PCE provides capacities for maintenance and calibration at customer site). News
PCE also participates in instrument development projects with governmental institutions and private companies for special types of sensors, meters and automation equipment.
Our Spanish subsidiary – PCE Iberica S.L. – supports SAGCR (Astronomy and Geo Society of Ciudad Real) through test equipment donations which are appropriate for working conditions in very extreme climates.
You prefer to order by phone or you have some additional questions?
: +44(0) 23 809 870 30
Cloud Data Services
Would you like to have all your measurement data stored and analyzed in the PCEs online cloud?
PCE Instruments UK Ltd
Hampshire, UK
All the test equipment is manufacturer calibrated and can also be certified according to ISO. This can be done for almost all test instruments, especially laboratory equipment and scales and balances. If you buy a calibrated product you will receive a certificate which confirms the calibration of your equipment. Manufacturer calibrations are done by PCE Instruments itself. The DIN, ISO and UKAS calibrations as well as the verifications are done by third party companies. In case you have special requirements regarding the calibration of test equipment, do not hesitate to contact us.
Payments can be made as follows: by credit or debit card, PayPal or bank transfer.
PCE Americas Inc.
Jupiter , FL, USA
PCE Instruments TV
PCE is represented at various exhibitions.
PCE Videos show various test equipment, laboratory equipment and controls in practical use (for environmental, industrial, laboratory measurement and R & D projects) as well as a wide range of scales and balances equipment, do not hesitate to contact us. To watch all videos click
Test Equipment News
Find all the latest PCE company news and info, announcements, breaking news on products and R&D projects.
Bursting with lots of valuable information, PCE's new industrial test equipment catalog contains decades of our applications experience and technical expertise. Reasons to view the industrial catalog: Very easy to navigate. The product line is well organized by product groups.
PCEs worldwide company locations for development, production and warehousing on four continents.
1. PCE Iberica S.L.
2. PCE Produktions- und Entwicklungsgesellschaft mbH
3. PCE Deutschland GmbH
4. PCE Americas Inc.
5. PCE Instruments Chile S.A.
6. PCE Instruments UK Ltd.
7. PCE Instruments France EURL
8. PCE Italia S.R.L.
9. PCE Instruments China Co., Ltd.
10. PCE Instruments Hong Kong Limited
11. PCE Teknik Cihazlar Ltd.Sti.
12. PCE Brookhuis B.V.
KUALA LUMPUR: Scania in Malaysia has unveiled its line-up of its New Truck Generation (NTG) that features advanced driver assistance system (ADAS) along with sustainable Euro V emission standard.
Also showcased at Malaysia Commercial Vehicle Expo (MCVE) at the Mines International Exhibition Convention Centre were the B100 FAME-prepared coaches and the test & drive competition called 'A Good Driver' MCVE Edition.
Deputy Transport Minister Henry Sum Agong was the guest-of-honour of the MCVE which is open to the public and ongoing until March 12.
Chemtrax Sdn Bhd's P410A6x2NA is the first ADR Specification NTG customer that subscribed to the ADAS – the two of many safe and smart transport technologies are the Lane Departure Warning (LDW), Automatic Emergency Braking (AEB) and also comes with the award-winning rollover side curtain airbags, for the latest 10 units delivered.
Heba (left) handing a mock key Chemtrax senior manager Hairul Anuar and witnessed by Henry (centre).
LDW is a practical aid that warns the driver if the vehicle is about to cross the lane markers, without activating the indicators.
The system automatically detects the lane markers and advises the driver when the vehicle combination is too close to the oncoming lane or verge/ditch markings.
AEB is a system that uses camera and radar to register what is happening in front of the vehicle.
The purpose of the system is, as far as possible, to prevent a collision with the vehicle in front through automatic braking.
The implementation of ADAS in heavy commercial vehicles together with proper and authorised maintenance reduces traffic accidents and casualties, reduces repair of road infrastructure caused by accidents and reduces traffic congestion as a result of accidents.
Other features of the NTG include new chassis design, extended storage options, and enhanced safety features such as the rollover side curtain airbags, which is a first in Malaysia.
Heba (left) presenting a mock key to Xin Hwa group operations manager Mohd Yusoff Rahman and witnessed by Henry.
Xin Hwa Holdings Bhd became the first customer to receive Scania NTGs with Euro V engines.
A key feature among many Scania engine technologies in the Scania NTG Euro V R620A6x4NZ is the Selective Catalytic Reduction (SCR) system that reduces local emissions that contribute to smog and haze.
In accordance with the EU emission standard, local emissions are measured in Nitrogen Oxides (NOx), a toxic gas, and particulate matter (PM). Extra High-Pressure Injection (XPI) enhances performance and fuel economy.
Billion Stars Express CEO Edward Lim (left) receiving the mock key from Heba and witnessed by Henry.
Scania also showcased Billion Stars Express Sdn Bhd's FAME-prepared coaches K360IB4x2 that can run on B20 to B100.
It is environmentally-friendly – lowering global emissions by reducing CO2 to limit the effects of climate change.
FAME is the abbreviation for Fatty Acid Methyl Esters which is the technical term for the biodiesel that is produced in Malaysia.
In addition, Scania coaches come with safety technology, great comfort and reliability.
Meanwhile, the 'A Good Driver' Competition MCVE edition was also the highlight at this year's expo that allows the public to experience driving a Scania truck or bus and win some prizes.
Winners were awarded prizes every two hours daily (up to four times) with the prize-giving ceremony held at the main Scania exhibition area.
As the first major manufacturer of heavy commercial vehicles, Scania's far-reaching climate targets have officially been approved by the Science Based Target initiative (SBTi).
Scania Southeast Asia managing director Heba El Tarifi said profitability and sustainability could go hand in hand.
"That is why Scania continues to be a leader in driving the shift towards a sustainable transport system together with our partners.
"We hope more will join us on this journey towards reaching our SBTi targets," Heba said.